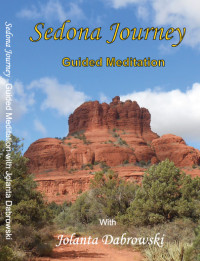 The Sedona Journey guided meditation is great for everybody who wants to experience the mystic beauty of Bell Rock and the vortex of the Universal energy, but was not there yet, or will be not able to visit that amazing place ever.
There is a reason why I created my guided meditation as a DVD. I have heard so many times from different people that they want to visit Sedona and experience its beauty and the energy emanating from several vortexes in the area. But a lot of times life circumstances were preventing them from going there. Lately I even heard from one person that this destination is on her "bucket list". And now it is available to everybody; to see a glimpse of majestic Bell Rock and experience its vortex energy. The good news is that you do not need to wait to start your "bucket list" and you can have a "taste" how it is there by participating in that meditation.
It is fairly important to see the first part "Discovering the Sedona Vortex" before turning on the second part "In the Vortex". Especially for the first time viewer it is important to understand an atmosphere of the surroundings. It is so much easier after watching it to get into a proper mood for this special guided meditation.
Cost of one DVD is CAD $25 plus $8 shipping. Canada wide and U.S. by Canada Post.
Ask for Sedona Journey DVD at:
Mandala Book Shop, London, ON
Graceful Petals, London, ON
Whispers of Eden Gift Shop, West Lorne, ON.